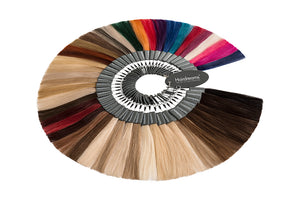 The original Hairdreams color ring features all Hairdreams® tape extensions colors. 100% real human hair strands in all current Hairdreams® Quikkies and Secrets colors, this tool is a stylist's Must-Have for color matching.
For Hairdreams® Rooted Colors, please see our
Hairdreams® Root Shadow Color
Ring
, featuring color gradations in short and long rooted lengths.