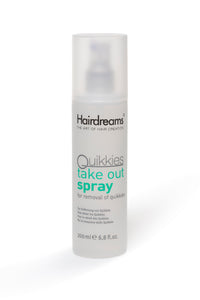 For fast, gentle removal of Hairdreams® QUIKKIES, SECRETS and other tape-in extensions. This product is for professional salon use only. 


Attention:
By adding Quikkies Take Out Spray to your cart, you'll only be able to choose FedEx Ground Shipping. In order to receive other products using different shipping options, place 2 separate orders.
Use Take Out SPRAY to remove QUIKKIES, SECRETS and other tape-in extensions quickly and gently.


Spray QUIKKIES Take Out carefully on the upper edge of the tape and let it work in for a short time. Then massage it with your fingers to loosen the tapes (spray a little more if necessary). As soon as the 2 tapes come apart, use your fingers to remove first the upper tape, then remove the lower tape from the natural hair. Spray any remaining residue with Take Out Spray again and comb it out carefully with a fine comb.