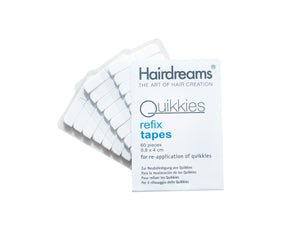 Adhesive tapes for effortless re-application of tape-in extensions.

Hairdreams® Refix Tapes allow for a quick and easy re-application of already worn tape extensions. Each Refix Tape is made out of an adhesive transfer material with no plastic material incorporated (unlike other brands). The Refix Tapes keep the extension attachment points thin like the initial application as opposed to other brands which become thicker and thicker with each re-application.

The QUIKKIES Refix Tapes are resistant to heat and styling while being gentle on the hair. They will last an additional 6-8 weeks until new refix tape will be needed.
If necessary, first remove adhesive residues from the upper edge of the QUIKKIES. During preparation for re-application, remove one Refix Tape from the backing and place on the Hairdreams® QUIKKIE.


Once you are ready to apply, remove the outer protective papers and attach QUIKKIES as usual to the own hair. Store in a cool and dry place.